Screw you, Superman! or, Sufjan Stevens album pulled off shelves!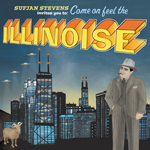 ...THAT'S BETTER!
Asthmatic Kitty Records
has been forced to pull the release of Sufjan Stevens' new album
Illinois
on the very day of its release, all because DC Comics has gotten all huffy about their use of Superman on the cover. So unless you preordered it online (like Boone did), or already picked it up from a record store willing to break street date (like Patrick did), then you're screwed for now!
It's a real shame that you have to wait too, because it's a Sufjan Steven's best record yet. Well, have fun waiting, suckers!