Cut the Chord's Top Twenty Albums of 2006
As opposed to previous years where one of us posted a top ten and the other posted ten alternates, we decided to combine forces to create a top twenty list this year based on combining our individual long lists of favorites (which we might post later if you ask real nicely). The resulting list surprised us in a few places, but is a solid list through and through of CDs you need to buy right now.
So let's get to it...
1.
The Long Winters
–
Putting the Days to Bed
(
Barsuk Records
)
John Roderick,
interviewed here just recently
, has created the Long Winters most masterful album to date, both in terms of its energy and its intimacy. "Ultimatum" is a scorching rock song that blasts off from the very beginning, but is also a tempered complex letter to a girl in which Roderick sings "I hope I can keep seeing you as long as you don't say you're falling in love." Roderick knows how to get across a lot of subtext in a few short lines, such as how he sets the scene in the opening to "Seven" where he sings "your new haircut is so unfamiliar, but they only know you that way" or creates a perfectly calibrated metaphor to describe a failing relationship in "Hindsight" with "I'm bailing water and bailing water because I like the shape of the boat." Sure, the lyrics sound depressing, but Roderick keeps the music upbeat, from the soaring horns on "Teaspoon" to the plucking banjo behind the acoustic "Clouds." It's the combination of the catchiest hooks and the nimblest lyrics we've heard this year that makes this our top album of 2006.
2.
Tap Tap
–
Lanzafame
(
Stolen Recordings
/
Catbird Records
)
On the trail of Clap Your Hands Say Yeah, British band Tap Tap is primed to be one of the true grassroots break-out bands of the year, given how Catbird Records having quickly sold out of their initial run of US copies of the CD with virtually no paid publicity. Their brand of rock is messy, raucous and wholly addicting, as exemplified by "
100,000 Thoughts
." Furthermore, the spinning energy of "On My Way" makes for what by all means should be a radio hit if the word gets around enough. Also of note was the frontman Tommy Sanders' other band,
Pete and the Pirates
, who released a comparably excellent EP this year called
Wait Stop Begin
.
3.
Snowden
–
Anti-Anti
(
Jade Tree Records
)
There were probably few others anticipating the August release as much and for as long as we were here at Cut the Chord, and the pay-off was great. When you hear
the title track
, you get it right away; the flurry of drums, the intense bass lines, the post-hipster lyricism. Snowden's hybrid of dance rock with shoegazer soundscapes makes them one of the most interesting new bands that you still have the chance to pick up on before your friends start recommending it to you instead. Be sure also to catch their intense live show if they come to your town.
4.
The Sleepy Jackson
–
Personality (One Was a Spider, One Was a Bird)
(
Astralwerks Records
)
Luke Steele, the Brian Wilson-channeling genius behind Australia's the Sleepy Jackson, fulfills the promise of his debut album
Lovers
with this monumental pop masterpiece. Steele's melodies, brightly colored and soaring to heavenly heights, are unparalled in their inventiveness. Steele places the ups and downs of love in the fairy tale universe of gods, devils, witches and dragons but still manages to come down from the clouds for the gorgeous "Miles Away." An impressive work of imagination.
5.
The Minders
–
It's a Bright Guilty World
(
Future Farmer Records
)
Some indie bands just turn out pop rock record after record with catchy melodies, but not many give a sense of history and personality like the Minders do. Here's a husband and wife team struggling to keep recording, setting up their own home studio to keep plugging away, as frontman Martyn Leaper talked about in
a recent interview with us
, and creating albums that are timeless and ready to be spun over and over, from the rollicking "365" to the terrific solo on "Red Admiral's (Gonna Catch Me)" to the quiet acoustic "Saturday Morning" which captures the spirit of Elliott Smith both in the songwriting and the way it was recorded. Here's looking forward to future albums.
6.
The Radio Dept.
–
Pet Grief
(
Labrador Records
)
This Swedish dream pop band saw some much-deserved commercial success this year when several of their songs were featured on the soundtrack for Sofia Coppola's film
Marie Antoinette
.
Pet Grief
is the follow up to their masterful
Lesser Matters
and while is the sound is markedly different, synths and drum machines having replaced the fuzzy guitars featured so prominently on
Lesser Matters
, but the brokenhearted sentiment remains the same.
7.
The Raconteurs
–
Broken Boy Soldiers
(
V2 Records
)
Jack White of the White Stripes and CTC favorite Brendan Benson combined forces with two members of the Greenhornes to create a supergroup that brings out the best in all of them. The album's songs feel immediately familiar and reflect some of the best rock of the 70's (especially when Jack White hits Robert Plant's howl dead-on on the Zeppelin-ish title track). White and Benson trade vocals perfectly, never giving the listener a reason to question who is singing what. Even more impressively, their live shows have transformed these razor sharp pop songs into mammoth rock anthems worthy of the Who's
Live at Leeds
. You can snatch up the official bootlegs of their UK tour at
http://www.concertlive.co.uk/Raconteurs/index.html
to get the big picture.
8.
Jenny Lewis with the Watson Twins
–
Rabbit Fur Coat
(
Team Love Records
)
Jenny Lewis has absorbed the spirit of country mainstays like Tammy Wynette and Dolly Parton as she finds her true voice in her debut solo album. The album doesn't so much contemporize the traditional country sound as it reminds us how contemporary that sound still is. Lewis is at her most fragile and revealing here, especially on a track like "Melt Your Heart." Anyone who loved "I Never" from Rilo Kiley's
More Adventurous
will fall in love with this Mike Mogis/M. Ward-produced album.
9.
TV on the Radio
–
Return to Cookie Mountain
(
Interscope Records
)
We've been praising TV on the Radio since their first EP and this is just a continuation of their greatness. Despite signing with the major label Interscope, TV on the Radio hasn't done a thing to water-down what's the most unique multi-cultural sound on the current rock scene. Only TV on the Radio can create songs both as ethereal and erotic as the opener "I Was a Lover" or mix David Bowie seamlessly into the vocal mix on the track "Province." This is at once one of the year's most challenging and ultimately satisfying albums.
10.
Bound Stems
–
Appreciation Night
(
Flameshovel Records
)
For fans of the lush layered rock of bands like Broken Social Scene and the Wrens, this is your album of the year. This album combines many of the best elements of the current indie rock scene, from its Decemberists-esqe hyper-literacy to the Stars-like boy-girl trade-offs on songs like "Excellent News, Colonel." The highlight is "
Wake Up, Ma and Pa Are Gone
" which builds to one of the most cathartic climaxes we've heard lately. Turn it up, shout along.
11.
Joseph Arthur
–
Nuclear Daydream
(
Lonely Astronaut Records
)
After a disappointing follow-up album, Joseph Arthur finally recaptures the haunting beauty of the best moments of 2001's
Redemption's Son
on this album. Having gone through a lot in the last few years, from living in New York City when the tower came down to transplanting to New Orleans just to see that town decimated, Arthur knows heartache and his music captures every last bit of that, as he searches for beauty while hanging on the edge of oblivion.
12.
The Walkmen
–
A Hundred Miles Off
(
Record Collection
)
Some have called this record a disappointment, though you can just throw that out the window.
Bows + Arrows
may contain several of the band's best songs, but its herky-jerky loud-quiet-loud-quiet dynamic kept it from ever transcending the power of those individual songs. Here we have the Walkmen's most solid, assured and consistent album to date, from the pulsating energy of tracks like "Lost in Boston" to the woozy delight of "Another One Goes By," which only pales to us at Cut the Chord slightly because we were already so in love with
the original version of the song
by Marazin.
13.
The Hold Steady
–
Boys and Girls in America
(
Vagrant Records
)
Lead singer/songwriter Craig Finn has turned the everyday lives of youngsters and their drug and alcohol-fueled romances into something epic and universal. No band has sounded this good since Springsteen's
The Wild, the Innocent and the E-Street Shuffle
, which tackled similar themes with the same wide eyed grandeur. The entire essence of this album is captured in the ballad "First Night" when Finn sings achingly about a girl named Holly who was "golden with barlight and beer" and the boys who "spit white noise" when they kiss. Characters bet on horse races to score drug money, have habits that start "recreational" and end "kinda medical," and have "massive nights" at "all ages hardcore matinee shows." Finn's narrative flows together like a Robert Altman film directed by Larry Clarke. It's one hell of an album.
14.
The Elected
–
Sun, Sun, Sun
(
Sub Pop Records
)
Following up 2004's much more experimental
Me First
, Rilo Kiley's Blake Sennett has gone for a much more traditional Americana sound on this album, so much so that you can almost believe that it was recorded on the old mill pictured on the front cover. Think of it as his
I'm Wide Awake, It's Morning
. The sound here is entirely authentic and somber from start to finish, with Sennett cooing lines of heartbreak like "I didn't get what I want, so I just took what wanted me" on "Would You Come With Me."
15.
Band of Horses
–
Everything All the Time
(
Sub Pop Records
)
Sub Pop caught singer/songwriter Ben Bridwell playing some dates with pal Sam Beam, the man behind Iron & Wine, and agreed to put out an album with him. The resulting debut album from Seattle's Band of Horses is both intimate and epic, projecting cinematic stories of mortality and heartbreak into listener's ears. Bridwell and Matt Brooke (formerly of Carissa's Wierd) sound like the Shins injected with a heavy alt-country rock dose of My Morning Jacket. "
The Funeral
" could very well be this year's indie rock anthem.
16.
Beirut
–
Gulag Orkestar
(
Ba Da Bing! Records
)
Sometimes it's great to have a CD that sounds like nothing else among your shelves and shelves of indie rock, but that you still love. Somehow, a 19 year old kid from Albuquerque created a CD of what sounds like authentic Greek folk gypsy music, but infused it with just enough modern sensibilities to appeal to those of us that still spin Neutral Milk Hotel's two albums to no end. It's safe to say too that "
Postcards from Italy
" was the song of the year when it came to sending your friend that really great MP3 link you came across on your favorite music blog.
17.
Arctic Monkeys
–
Whatever People Say I Am That's What I'm Not
(
Domino Recording Company
)
Along with Lily Allen, the Arctic Monkeys received a monumental amount of press before their US debut. When a band manages to live up to the hype the UK press often heaps on new acts prematurely, it's always a pleasant surprise. Singer/songwriter Alex Turner tells sordid tales of working class kids in London, their fights, nightlife and flings. Turner's lyrics are sharp and witty ("there's only new music so that there's new ringtones"), moving from anger to amusement to sadness in a matter of seconds. Oh, and the band rocks. There's nothing else to say about them. Buy the album.
18.
Film School
–
Film School
(
Beggars Banquet Records
)
Following up their terrific
Alwaysnever
EP, Film School continues to create dense soundscapes that will reach every corner of whatever room you play this CD in. Mmm… and that's all we have to say about this one. We're a bit puzzled after doing the math that this made it onto our Top 20, but we do like it a lot. We're just at a loss as to what to say about it.
19.
Jude
–
Redemption
(
Naïve Records
, available on
CDbaby.com
)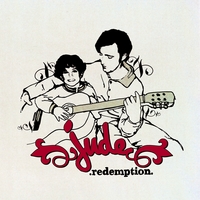 If there's anything I could say negative about Jude's triumphant return with 2004's
Sarah
, it's that it just wasn't enough at about 30 minutes to sate those of us who were thrilled to see him finally return to the kind music he had been crafting before he got put through the major label grinder. Well thankfully, Jude is back again with an album that stretches to almost an hour, recorded entirely independently with friends. Here he's found his feet, able to record music as commercial as ever but still as honest and penetrating as his early work. You've hardly ever heard a song so intimate and personal as when Jude starts out "End of My Rainbow" singing "I wrote this song to keep from killing myself." Try to find something that starkly honest on any other pop record this catchy.
20.
Lilys
–
Everything Wrong Is Imaginary
(
Manifesto Records
)
The thrilling return of Kurt Heasley's ever-changing Lilys hasn't gotten much notice in the last few years. In fact, when CTC's Patrick C. Taylor attended a Lilys show earlier this year, he found to his dismay that the band nearly outnumbered the audience. Yet, Heasley continues to turn out brilliant records that blend pop, psyche and shoegaze into something that's endlessly listenable. It's time that you catch up.
Honorable mentions:

There was certainly no shortage of great CDs this year. Ones that didn't quite make the list include the Decemberists, M. Ward, Loose Fur, Lily Allen, The Changes, Adem, Kelley Stoltz, Yo La Tengo, (The Sounds of) Kaleidoscope, The Dears, Math and Physics Club, Sunset Rubdown and Oxford Collapse.
Also, there were always the great albums released before 2006 but that just finally reached our attention this year like Hotel Lights, B.C. Camplight, P:ano and the Boy Least Likely to.
Catch you in 2007!