Cut the Chord's Top 20 CDs of 2005!
As always, Boone and Patrick switch off who gets to do the Top 10 CDs of the year and the other does the 10 alternates. This year, it's Boone's turn for the top ten. So without further ado...

BOONE'S TOP 10 CDs of 2005

1. Ryan Adams – Cold Roses (Lost Highway Records)



I've already written enough about this album. My first review was about the same length as In Cold Blood. With that said, I'm going to try and keep this short. Cold Roses is fucking brilliant and if you don't agree with me I'll kill you.

2. Broken Social Scene – Broken Social Scene (Arts & Crafts)



Broken Social Scene crystallize their sound, push the envelope, and throw in a free EP of goodies that puts most band's actual albums to shame. This is even better than the critically acclaimed You Forgot It In People. How can you not worship at the altar of an album whose closing ten minute epic, "It's All Gonna Break," begins with the line "when I was a kid you fucked me in the ass" and still manages to work in something as beautiful as "the sound of your heart is a god I can trust."

3. Wolf Parade – Apologies to the Queen Mary (Sub Pop Records)



Are Dan Boeckner and Spencer Krug indie's answer to Lennon and McCartney? This powerful debut album alternates between each of the duo's tunes, creating a cohesive whole without sacrificing the individuality of the two songwriters. There's no filler here, just one memorable song after another. Did I mention that they're even better live?

4. Bright Eyes – I'm Wide Awake, It's Morning (Saddle Creek Records)



When I heard this for the first time last January, I was fairly certain it would be at my number one spot come year's end. But shit happens, right? Still, this is a wonderful piece of work. Oberst's writing grows by leaps and bounds with each release. "Land Locked Blues," originally titled "One Foot in Front of the Other" when I first heard it, is as impressive as some of Dylan's work. The companion album, Digital Ash in a Digital Urn, though not as tightly focused is worth owning as well.

5. Sufjan Stevens – Illinois (Asthmatic Kitty Records)



The Superman controversy made headlines. Copies with the Man of Steel on the cover were selling on Ebay for a hundred bucks a pop the day it was released. The second in Sufjan's insane 50 states plan. This big, sprawling, American masterpiece is his finest effort to date.

6. Devendra Banhart – Cripple Crow (XL Recordings)



As ambitious as Sufjan's Illinois, Banhart's 22 track epic about innocence, community, and peace is one of the year's most satisfying listens. As the Sgt. Pepper-inspired cover indicates, Banhart has left his bedroom, opening his arms to an impressive backing band and variety of musical styles without compromising the singular vision he achieved on Rejoicing in the Hands. A monumental work.

7. Bill Ricchini – Tonight I Burn Brightly (Transdreamer Records)



If you haven't heard of Bill Ricchini I feel deep pity for you. Ordinary Time is one of my favorite albums of all time. If you like the Beatles, Elliott Smith, Big Star, etc, you'll love Bill's work. Tonight I Burn Brightly is his sophomore album and if songs like "Eugene Hill" and "Close the Door" don't touch your heart then you simply don't have one.

8. The Spinto Band – Nice and Nicely Done (Bar/None Records)



A perfect pop album. Nice and Nicely Done is endlessly addictive. With a little radio play "Oh Mandy" could be the biggest hit of the year. Untouched by hipster bullshit, the Spinto Band have made a heartfelt album that, in a perfect world, would be listened to by every teen across the country. Geek rock hasn't been this good since Weezer released their first album.

9. Tiger Lou – The Loyal (V2 Music)



Stockholm's Rasmus Kellerman, who blew my mind with his Trouble & Desire EP and debut album Is My Head Still On, returns with the dark concept album The Loyal. In the album's press release, Rasmus reveals an interesting tidbit about the album's recording: "All the vocals consists of two takes, one in the left speaker and one in the right, a method that was brought to my attention by the late Elliott Smith. It creates a very eerie and panoramic feeling that works really well with the songs and theme of the album." This is definitely one of the year's most atmospheric albums. A wonderful achievement.

10. Rogue Wave – Descended Like Vultures (Sub Pop Records)



Although less intimate than their first album, Descended Like Vultures proves that Rogue Wave is an indie rock band to be reckoned with. They're louder, the hooks are bigger, and the studio sheen is at the same level as the last two Death Cab albums. This is great stuff. I'm sure you'll be hearing it on an upcoming episode of The O.C. Damn that show.

Also... Kanye West's Late Registration, Sun Kil Moon's haunting Modest Mouse covers album Tiny Cities, Animal Collective's Feels, Spoon's Gimme Fiction, Fiona Apple's Extraordinary Machine, The Constantines' Tournament of Hearts, Death Cab For Cutie's Plans, The Long Winters' Ultimatum EP and M. Ward's Transistor Radio.


PATRICK'S TOP 10 CDs of 2005

1. Mazarin – We're Already There (I & Ear Records)



Mazarin's first album since 2001, and it's their most solid album yet. Frontman Quentin Stoltzfus combines pop melodies with shoegazer sensibilities for a dense trippy delight. If I can travel from Virginia to Brooklyn just to see them play five songs in a coffee bar, then the least you can do is give them a listen.

2. The Kingsbury Manx – The Fast Rise and Fall of the South (Yep Roc Records)



North Carolina's Kingsbury Manx have been releasing solid albums for years and where have you been? Have you been listening to Cut the Chord when they keep telling you to buy them? No! So get the fuck out there and get started with this one!

3. The Clientele – Strange Geometry (Merge Records)



The members of the Clientele may not have been alive in the '60s, but they never seem to have left it. From the first moments of "Since K Got Over Me" you get transported into a time when "pop music" wasn't a shameful thing at all.

4. The Joggers – With a Cape and a Cane (Startime International Records)



I think I read a review of this CD which mentioned "counter-clockwise beats" and I thought, oh man, that nailed it. The Joggers add an element of the bizarre that keeps their music addictively off-kilter in a way I haven't heard since the Dismemberment Plan.

5. Clap Your Hands Say Yeah – Clap Your Hands Say Yeah (self-released, available at Insound.com)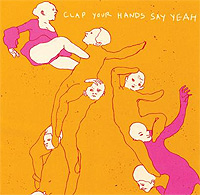 Clap Your Hands Say Yeah are having a ball performing a sort of Playschool version of Talking Heads songs. Their self-released record has been a huge success for them and will hopefully inspire other bands to break away from the corporate stranglehold on the music industry.

6. The Decemberists – Picaresque (Kill Rock Stars)



It might not have the stand-out tracks of the first two albums, but Picaresque is the most solid track-for-track album yet for this, the most literate band in indie rock.

7. Ghosty – Grow Up Or Sleep In (Future Farmer Recordings)



Ghosty has been around for six years, but this is their first full-length album, and it packs a wallop. This is the kind of mature textured rock that blows people away when you slip one of the songs onto their mix CDs. Here, try using "Big Surrender."

8. Luke Temple – Hold a Match for a Gasoline World (Mill Pond Records)



After the very first listen, I found myself still humming Luke Temple's music and wanted to give it a second listen as soon as possible. Think of a combination of Sufjan Stevens' whimsicalness and Sondre Lerche's charm.

9. Levy – Rotten Love (One Little Indian Records)



Boone loves this album too. Lush and sincere … think of something in between Coldplay and the Strokes, but more fun than either of those bands have been lately. In a perfect world, "In the Woods" would be the radio hit of the year, with all the girls singing along to "don't tell me that you love if you don't know why!"

10. Cass McCombs – PREfection (Monitor Records)



If Badly Drawn Boy had listened to the Smiths a whole lot more, he would have turned out more like Cass McCombs, and as a result, I would still be listening to Badly Drawn Boy. This is a great piece of reverb-laden pop beauty.

Also… Antony and the Johnsons' I Am a Bird Now, Bloc Party's Silent Alarm, Pernice Brothers' Discover a Lovelier You, self-titled albums by both Headphones and The Cloud Room, Andrew Bird's The Mysterious Production of Eggs, Metropolitan's The Lines They Get Broken and the two EPs by Math and Physics Club.